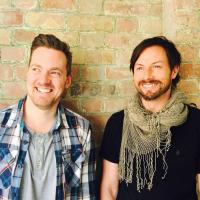 tokyoplastic - aka Andrew Cope and Sam Lanyon Jones - specialise in character and narrative.
Their animation style has proven popular with both clients and the general public, to the point they've designed and produced toys based on their unique aesthetic.
After working as successful commercial directors for the past decade, the pair have recently brought their animating talent to apps, launching 'Pushing Inc' via Apple.
http://www.picassopictures.com/picasso-pictures/directors/tokyoplastic/